Design Your Own Shower Curtains for a Unique Look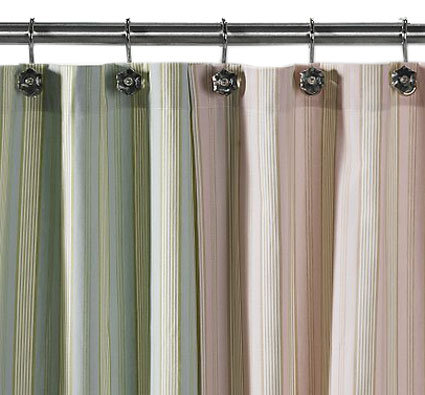 Custom Shower Curtains offers quality custom shower curtains in more than 500 fabrics including Sunbrella! Our standard hem and 12 button hole custom shower curtains are an excellent way to add a decorative touch to any bathroom.
We can make your custom shower curtain standard size (72" x 72"), or we will be glad to make it wider, taller or both! Our most popular custom shower curtain fabric is Sunbrella. All of our stocked Sunbrella fabrics carry a 5-year warranty against fading and are stain resistant. Bathroom chemicals, including bleach, will not affect the solution dyed acrylic threads of Sunbrella.
There will be 12 buttonholes across the top of your custom shower curtain for you to attach your shower curtain rings (fewer buttonholes for shower stall curtains, and more for extra wide curtains). All of our custom shower curtains are designed for use with a waterproof liner (not supplied, but readily available at many department and discount stores).